Publications
Our Virtual Bookstore
Browse our bookstore online, then visit the Museum Shop in the Friends of Historic Kingston Gallery. The shop has a selection of publications, many not listed here, and other items that celebrate the history and heritage of our area. The shop is open during regular site visitation hours: May-October, Friday-Saturday, 11-4. The FHK Gallery is located at the corner of Wall and Main Streets adjacent to the Fred J. Johnston House.
KINGSTON: THE IBM YEARS
By Friends of Historic Kingston $25.95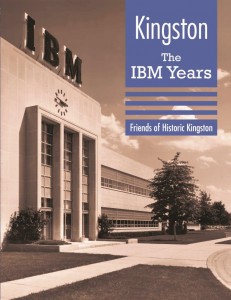 Essays by novelist Gail Godwin, Rrofessor Roger Panetta, Professor Harvey K. Flad, Professor William B. Rhoads, Journalist Hugh Reynolds, Former IBMer Lowell Thing, Timeline by former IBMer George G. Washington, Preface by Project Director Ward L.E. Mintz, Drawings by architect Frances Halsband, Photographs by Stephen Benson
 What happens when a giant high-tech corporation opens a massive new plant on the outskirts of a small, rural, historic city? And what happens when it just as suddenly leaves?
 In Kingston: The IBM Years, three prominent college professors, an award-winning novelist, a longtime Ulster County journalist, and two former IBM Kingston employees examine the history of the IBM complex and the work that was conducted there, the impact the facility had on Kingston and its surroundings, what life was like as an "IBMer," how it influenced regional architecture and thrust a colonial city into the modern age, and the effect of a "boom and bust" cycle on a rural, traditional community.
Rising quickly in 1954–1955 on a 200-acre former dairy farm, the new IBM location near Kingston, New York, was a major event for the city and the entire Mid-Hudson Valley, at that time a quiet area supported by apparel companies, a dying brick-making industry, agriculture, and small, family-run businesses. The IBM complex would eventually grow into a 2.5-million-square-foot facility that employed 7,100 people. In 1995, when IBM Kingston closed and the buildings sold, Kingston had changed forever.
Over the 43 years that the Kingston plant and engineering laboratory were operational, significant discoveries were made and projects developed by its employees that affected the world at large: the SAGE air defense system that could identify any hostile air attacks; the SABRE airline reservation system; the FAA nationwide aircraft control system; and the first interactive displays and software systems that over time would allow individuals to use computers the way we do today.
At the dawn of the computer age, the Hudson River Valley was "Tech Valley," and Kingston was center-stage.
 About the Authors, the Artist, and the Photographer
Kingston: The IBM Years features a preface by career museum curator and Project Director Ward Mintz, and essays by three of the Hudson Valley's most illustrious scholars—guest scholar Professor Roger Panetta of Fordham University; Vassar College's Dr. Harvey Flad, coauthor of Main Street to Mainframes: Landscape and Social Change in Poughkeepsie; and Dr. William B. Rhoads of SUNY New Paltz, author of Ulster County, New York, The Architectural History and Guide. Gail Godwin, author of fifteen novels and a three-time National Book Award finalist, has contributed an essay with illustrations by award-winning architect Frances Halsband. The book also includes essays by Lowell Thing, a retired IBM technical writer and author of the forthcoming Kingston history, The Street That Built a City; George G. Washington, a retired IBM engineer; and newspaper journalist and columnist Hugh Reynolds.
Kingston: Postcard History Series
Patricia O'Reilly Murphy.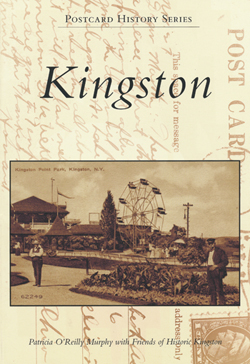 With over 200 postcard images and accompanying descriptive text, this book provides a concise and informative history of Kingston. There are images of the Stockade National Historic District with its old stone houses, County Courthouse, and Old Dutch Church. The section on the Downtown Historical District contains images of a bustling maritime village which developed following the building of the D&H Canal. The Midtown area is represented by its civic buildings, factories and railroads. The author is a Kingston native.
$21.99 + tax
7 Ways to Love Your Older Home
This brochure was produced by the City of Kingston with assistance from Friends of Historic Kingston and the Landmarks Preservation Commission and funded by a Certified Local Government grant from the New York State Office of Parks, Recreation and Historic Preservation.
Download this FREE pdf compliments of FHK.
ULSTER COUNTY, NEW YORK: THE ARCHITECTURAL HISTORY & GUIDE
Dr. William B. Rhoads

This is the first book to offer a comprehensive history of the architecture of Ulster County. Featuring 325 sites with 340 illustrations, the book showcases three centuries of architecture from 1660 and the early European settlers' simple limestone cottages to the Modernist glass structures of the mid-1950s. Histories of the architects, builders and owners give historical and social context to the featured sites. Published by Black Dome Press, 2011.
$24.95 + tax.
STREET WHYS: ANECDOTES AND LORE OF KINGSTON, N.Y.
Edwin M. Ford, City of Kingston Historian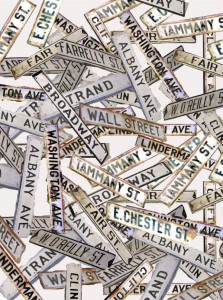 More than half a century of research by City of Kingston Historian Edwin M. Ford produced this 343-page book that tells how approximately 365 Kingston streets got their names. The listings are arranged alphabetically with each entry containing information on when and how the street developed, along with names of its notable buildings, businesses and residents. The book provides a composite portrait of the city's development over the past 352 years. Published by Ford Printing 2010.
$19.95 + tax
KINGSTON NEW YORK: THE ARCHITECTURAL GUIDE
Dr. William B. Rhoads

Publications-KingstonNYcoveThis 205-page guide describes and illustrates over 134 sites covering more then 375 years of Kingston's architectural history from Colonial times to the present. Authored by Dr. William B. Rhoads, Professor Emeritus of Art History at SUNY New Paltz, it reflects his 25 years of research into Kingston's buildings and their architects. Organized in nine sections or "tours," it can be read in a comfortable chair, or doing a driving or walking tour of Kingston's neighborhoods. "Lost Kingston" is also represented in a section with historic photographs of buildings that might have been saved. Contemporary photos are by James Bleecker and historic photographs include many previously unavailable to the public from the William J. O'Reilly Collection. The foreword is by J. Winthrop Aldrich, retired Deputy Commissioner of Historic Preservation for the New York State Office of Parks, Recreation and Historic Preservation. Published in 2003 by Black Dome Press.
$16.95 + tax
IMAGES OF AMERICA: KINGSTON
Edwin M. Ford, City of Kingston Historian

Publications-DAYLINER-AT-KIA photographic essay, the 128-page book illustrates four centuries of architecture, streetscapes and various aspects of life from the mid-1800s to the mid-1900s. Nine sections show Kingston's legacy of stone houses in the Stockade District, the city's maritime history as a major Hudson River port and terminus of the Delaware and Hudson Canal, commerce and industry, public buildings, churches and private residences. Photos are from the Friends of Historic Kingston archives and several private collections. The text was researched and written by Edwin M. Ford, City of Kingston Historian and longtime board member of Friends of Historic Kingston. Published in 2004 by Arcadia as part of the Images of America Series.
$19.99 + tax
JULIA McENTEE DILLON
Sanford A. Levy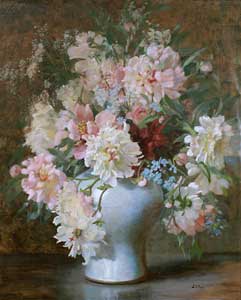 This lavish four-color essay covers the life and work of Kingston artist Julian McEntee Dillon (1834-1919) who was noted for her floral paintings. The 44 illustrations include many of the paintings from the major retrospective of her work featured in the Friends of Historic Kingston Museum Gallery in 2005. The text is by Sanford Levy of Jenkinstown Antiques, New Paltz, who was co-curator of the exhibition. . Contemporary photography is by John Lenz.
$20 + tax
TELLER & HALVERSON: Masters of the Colonial Revival in Ulster County, New York
Dr. William B. Rhoads
The contribution to the Colonial Revival Style by two late distinguished Ulster County architects, Myron Teller and Harry Halverson, is documented in this 35-page 8" x 11 ½" soft cover book. Dr. Rhoads writes and lectures extensively about the Colonial Revival Style and also authored Kingston, New York: The Architectural Guide. Photographs illustrate Teller and Halverson's extensive work throughout Ulster County. Published in 2005 by Friends of Historic Kingston.
$10.00 + tax
JOSEPH TUBBY ARTIST: RONDOUT, NEW YORK
Sanford A. Levy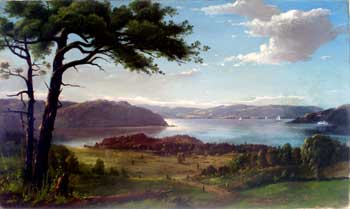 Publications-HudsonRiverfroThe lavishly illustrated book was produced to accompany the 2008 retrospective in the FHK Museum Gallery featuring the work of Joseph Tubby (1821-1896) ), a major nineteenth century Kingston artist noted for his paintings of local landscapes. Written by guest curator Sanford Levy, the 8 1/2″ x 10 1/2″i30-page book contains 21 plates.
$19.95 + tax
GEORGE CLINTON: FOUNDING FATHER OF NEW YORK STATE
Produced by Friends of Historic Kingston
18-Minute DVD

Follow the footsteps of George Clinton from his birth on a Hudson Valley farm to his election as New York State's first governor and vice-president of the United States under Thomas Jefferson and James Madison. This 18-minute documentary shows Clinton as the heroic Brigadier General who led the defense of Fort Montgomery on October 6, 1777, and resolutely led the fight to add the Bill of Rights to the U.S. Constitution. It reveals the greatness of character of a man whose influence on New York State and the nation endures even today.
$20 + tax
KINGSTON'S GREATEST GENERATION
17-minute DVD
Photo and film footage features local troops departing for World War II and the homefront heroes.
$15 + TAX.
In addition to the books listed in our Virtual Bookstore, the FHK Museum has a large selection of brochures relating to Kingston and the Hudson River Valley National Heritage Area. The Local History Room at t the Kingston Area Library, 55 Franklin Street, houses a large collection of books on regional history.